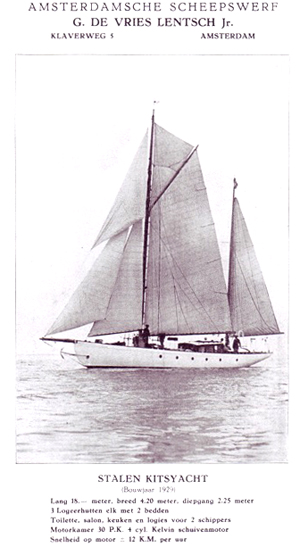 My Nitchevo is a classic sailing yacht with enormously rich history. Designed and built in Denmark as a gaff-rigged ketch aiming to win a 1929 Atlantic race to New York. During the slump she raced in the Atlantic, marconi-rigged under the French flag, as Gabyvonne III. By 1932 she was in Cannes, owned by the pharmaceutical inventor Dr Pierre Boucard and renamed after his probiotic medicine as Lactéol III.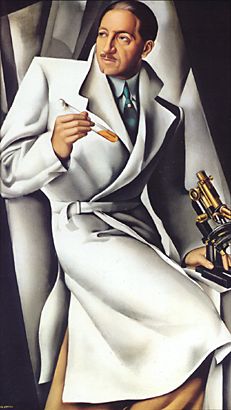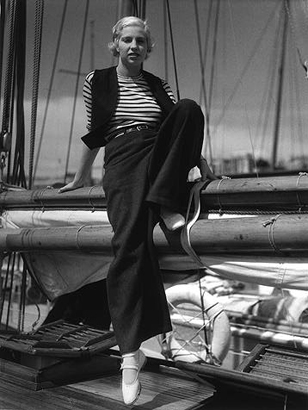 Dr Pierre Boucard and Tamara de Lipnicka
During next years the boat has welcomed on board a well-known art-deco painter – Tamara de Lipnicka. The Germans scuttled Lactéol in St Tropez Harbour after discovering two mysterious gun-running voyages from Martinique for the French Resistance. She was under water for two years before being raised and refitted.
In the 1956 Suez crisis, when Sir Peter Ustinov had just starred in Hollywood with Humphrey Bogart in We're No Angels and his Tony winning play Romanoff and Juliet was opening in Manchester, the multilingual actor, director, author and raconteur had been invited for cocktails aboard the 17.8m ketch in Cannes Harbour. She was then owned by a French industrialist with Moroccan interests and named Christina.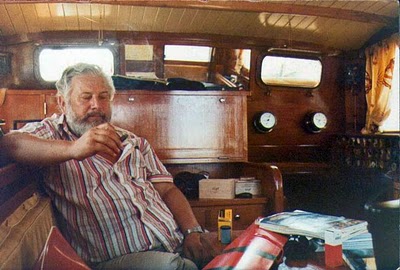 Sir Peter Ustinov onboard My Nitchevo
Ustinov said he used some blocked French funds to buy the yacht but soon had to change her name from Christina to Nitchevo, which is Russian for "It's nothing". He said the revised Russian name always reminded him that when he was on board, in his favourite berth at Puerto Andratx in Mallorca, "I'm doing nothing, absolutely nothing more than go for a little swim and eat with great appetite. It's like a stop at the gas station. Here, I'll get me the strength that in the course of the year I will consume elsewhere." Ustinov said that after acting in forty films in five languages, winning Oscars for Spartacus and Topkapi, directing operas, writing over 20 plays and novels and serving as a UNICEF goodwill ambassador, no possession had given him more pleasure than My Nitchevo. He told an American reporter that he had once agreed to appear a film only because its producer had offered to hire the yacht.
In 1962, the young Michael Caine caught his first sight of Cannes from the deck of My Nitchevo. Ustinov had lent the yacht and his villa in Provence to Caine's London flat-mate Terence Stamp after directing his performance as Billy Budd. Caine remembered the generosity: "Cannes was fantastic. The girls, glamour, home of the world's biggest film festival".
In his 1977 autobiography Dear Me, Ustinov wrote: "My boat Nitchevo has been my inspiration in good times, my salvation in bad. The Captain who came with it, José Perez Jimenez, is an integral part of his craft. He was aboard when I bought it, and we have aged together. His wife Carmen, a blonde girl with a gentle Spanish beauty, a little doll-like in repose, tinged with both melancholy and humour in animation, sails with us, and cooks the fish we catch."
"My rash, thoughtless purchase has given me some of the happiest times of my life."
"I have faced high seas and even peril on old Nitchevo, with waves breaking on the roof of the deckhouse, arrows of icy water in flight as in medieval battle, little whirlpools scurrying round the calves and pushing at the ankles, seas angry and devious in their malice. All of it, even the moments of fear, was sheer exhilaration." With help from his daughter Pavla, Sir Peter Ustinov had been able to spend the last summer holiday of his life living aboard My Nitchevo in Mallorca in August 2003.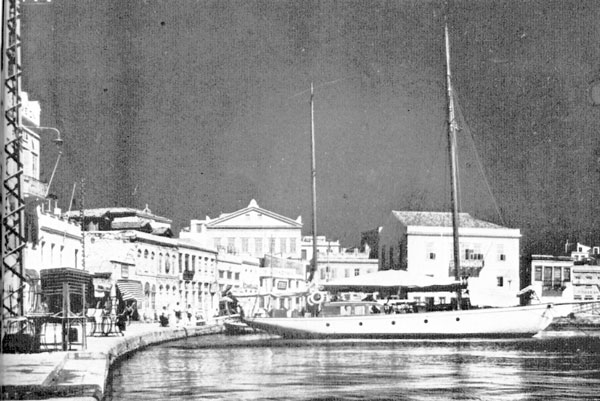 NITCHEVO at Syros, photograph by Henry Fonda in Dear Me by Peter Ustinov, London, 1977
In 2011, a team from Underhill Engineering in Plymouth had transported the boat to Plymouth. Project manager Richard Underhill said, "She is a great classic with a notable career as a transatlantic racer in 1929 and 1931. Her 82 year old steel hull and teak deck will be restored before we begin a sympathetic refit of her interior, according to original plans."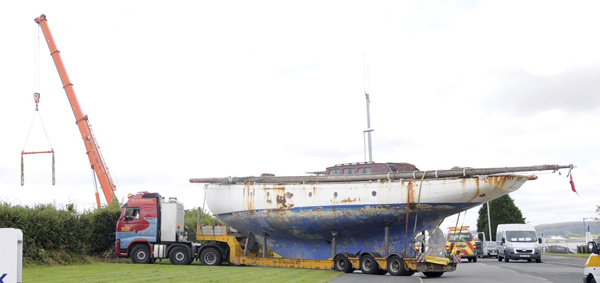 Photo by Andrew Rosthorn
For some reason the boat was not restored in Plymouth as originally planned. In autumn 2019 she was delivered to Complex Jacht with a plan of rebuilding her in Puck. However as the transport could reach the shipyard due to narrow streets the boat was unloaded in Jastarnia and towed to Puck via water after careful preparation (patching all the holes and putting a temporary GRP layers on the hull). The boat has been emptied and the hull was sand-blasted to evaluate its state and the necessary scope of replacing the plates. It turned out the around 80% of plating is in a poor state. The next works planned were to shed the yacht and start to replace the sheeting. However at the beginning of 2020, due to the owner health issues the project has stopped and the boat is currently threatened with being cut up for scrap. Her only salvation is finding a new owner willing to get her back to good shape and enjoy sailing on a boat with such history.
Please do not hesitate to contact us for the information regarding the yacht sale.
Source (for more details regarding her history):
[1] "BTX BOAT TRANSPORT - YACHT DELIVERY NEWS - USTINOV'S RUSTY NITCHEVO." http://www.btx.co.uk/transportnews12.html (accessed Sep. 29, 2020).